National Photography Competition 2012 organised by Jagran Pehel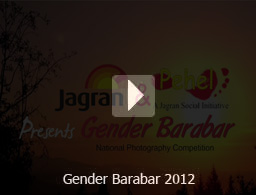 As said by Diane Mariechild "A woman is the full circle. Within her is the power to create, nurture and transform." Yet even after 65 years of India's independence, our country is still within the shackles of gender discrimination. Everyone is quite aware of the statistical data relating to sex ratio. High rate of female foeticide, divorces due to infertility and incapacity to deliver male child just proves the same. Women suffer discrimination from cradle to grave. No doubt government has taken many steps to bring positive change but the problem still persists because the mentality of people is still the same. It's time to change the mentality and not policies.
A change has to be brought in this direction and Gender Barabar- a pan India photography contest on Girl Child from Jagran Pehel is just this initiative to create awareness among young minds of the country on the issue.As a picture is worth a thousand words, the campaign aims to capture a different perspective on the theme of Girl Child through the eyes of a lens.
The first edition of Gender Barabar - National photography competition 2012 has been a learning experience for all of us. The theme of the competition holds even more significance in the scenario of skewed sex ratio in many parts of the country. As an initiative towards women empowerment and Gender equality,Jagran Pehel has taken up the issue so that the message can reach to the masses at large with the support of large media plexus of Jagran Group. Despite a rigorous selection criteria to encourage serious participation, the overwhelming response through 635 enteries within a short span proves the enthusiasm of the photographers.
A special mention of our partnerslike Basil International Ltd, Van Vrindavan Constructions Pvt Ltd, URO Group, Prachi Gas bottling Pvt Ltd and Aadhunik Group of Industries for their huge support in the campaign . In this journey, the incessant support of Radio Mantra and all the verticals of Jagran Group has been really instrumental in the successful implementation of the campaign.
The initiative would not have been a success without the guidance and mentorship of our distinguished Jury Members like Mr. Raghu Rai (a living legend in the field of photography), Mr.Tarun Khiwal (Fashion Photographer), Mr. O.P Sharma (Faculty, Triveni Kala Sangam), Mr. Anurag Batra (Chairman & Editor-in-Chief ,exchange4media), Mr. Rajat Ray, Senior Advocacy and Communications Officer, United Nations Population Fund (UNFPA) and Mr. Abhimanyu Mishra (Creative Diretor,Vishaka Communications).
With an encouraging support of all partners coupled with an extravagance of enthusiasm from contestants from across the country, the contest has been able to set a bench mark that will be taken to a larger level in the years to come.